Top Cooking Schools in Charlotte
Charlotte is now a major business hub in the balmy and friendly Southeast. Outside the Southland everyone thinks the food scene remains a fatty smorgasbord of shrimp and grits, fried chicken, buttery biscuits, and greens cooked down with a slab of fatback in the pot. The beauty of Charlotte's cuisine is that these wonderful flavors are revamped and renovated in totally unheard of ways, thanks to next generation chefs with passion and vision. The result is ingredient-driven upscale menus that fuse a dizzying array of flavors and elements. Even better is that until recently much of the new cooking going on in the area has gone undetected by the outside world and it's great—excellent restaurants and talented local chefs.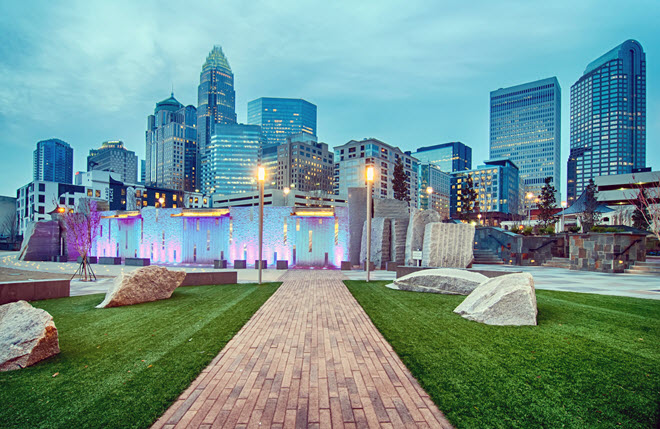 Find out where you can earn your chef's hat and get in on the action
Add in the cultural diversity that also has come to pass in Charlotte and you can whet your tastebuds for a wide range of flavors and dishes, from Spanish tapas, to southern soul food, contemporary American, Italian and Asian fusion.
Two types of students generally seek a professional culinary school: high schoolers that know they want to go to cooking school and career changers who've learned their passion is for food as opposed to insurance or engineering or medicine. When you go shopping for culinary program consider a few factors:
What types of culinary degrees are available?
Can you study full-time, part-time, day or evening?
What kind of time investment is required?
Do you get career services, such as help with resume and job placement?
Does the school offer scholarships and/or financial aid?
Check out the Charlotte schools that will get you on the career track to a passionate life.

Local Community Schools
Combine the art and craft of cooking at one of the most extensive culinary schools in Charlotte. JWU teaches the science of excellent cuisine along with nutrition, management skills. Upon graduation, students have the option to pursue a wide range of food service jobs locally and internationally.
Johnson & Wales University
801 West Trade Street Charlotte, NC 28202 866-598-2427 or 980-598-1100
Community Culinary School of Charlotte
This unique culinary academy is a non-profit organization the focuses on providing workforce training and job assignment assistance for people. CCSC aids underemployed adults in gaining and maintaining work in the food service industry, especially for those in disadvantaged communities. 

Established in 1997, this holistic program not only provides job readiness training. It also prepares the mind and body to help students be the best version of themselves.
Community Culinary School of Charlotte
9315-D Monroe Road Charlotte, NC 28270-1427 704-375-4500

Non-accredited Cooking Schools in Charlotte
If you're looking for fun and engaging culinary classes, Chef Allyssa's provides cooking and baking classes for adults, teens and children. This school has a custom-designed kitchen complete with state-of-the-art equipment to prepare delectable meals.
Chef Alyssa's Kitchen
4001-C Yancey Rd #100
Charlotte, NC 28217
(704) 817-7568
info@chefalyssaskitchen.com
Find A Culinary School near Fairfield With Open Eligibility Today!
Popular School Locations
---
Culinary Training
Top Schools
Majors
Degree Types
Career Information