Top Cooking Schools in Charlotte

Charlotte is now a major business hub in the balmy and friendly Southeast. Outside the Southland everyone thinks the food scene remains a fatty smorgasbord of shrimp and grits, fried chicken, buttery biscuits, and greens cooked down with a slab of fatback in the pot. The beauty of Charlotte's cuisine is that these wonderful flavors are revamped and renovated in totally unheard of ways, thanks to next generation chefs with passion and vision. The result is ingredient-driven upscale menus that fuse a dizzying array of flavors and elements. Even better is that until recently much of the new cooking going on in the area has gone undetected by the outside world and it's great—excellent restaurants and talented local chefs.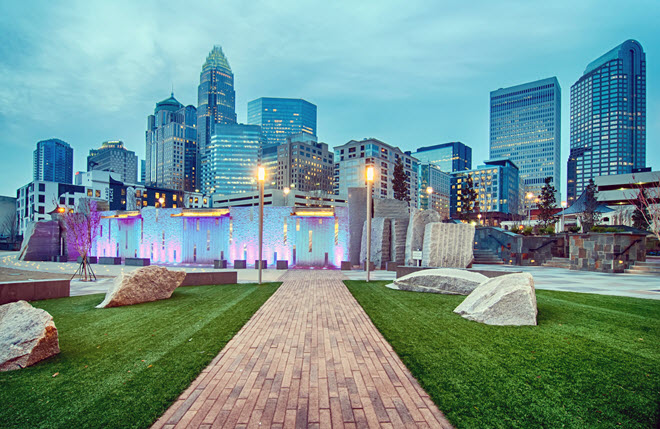 Find out where you can earn your chef's hat and get in on the action
Add in the cultural diversity that also has come to pass in Charlotte and you can whet your tastebuds for a wide range of flavors and dishes, from Spanish tapas, to southern soul food, contemporary American, Italian and Asian fusion.
Two types of students generally seek a professional culinary school: high schoolers that know they want to go to cooking school and career changers who've learned their passion is for food as opposed to insurance or engineering or medicine. When you go shopping for culinary program consider a few factors:
What types of culinary degrees are available?
Can you study full-time, part-time, day or evening?
What kind of time investment is required?
Do you get career services, such as help with resume and job placement?
Does the school offer scholarships and/or financial aid?
Check out the Charlotte schools that will get you on the career track to a passionate life.

Local Community Schools
This liberal arts university delivers one of the most comprehensive culinary educations around. For decades the theory behind JWU has been to teach the whole chef, give him or her all the tools they will need to succeed, which includes the traditional liberal arts coursework along with the exciting cooking stuff.
Johnson & Wales University
801 West Trade Street Charlotte, NC 28202 866-598-2427 or 980-598-1100
Community Culinary School of Charlotte
This very unique culinary academy actually specializes in training students with particular challenges. In fact the school's motto is: "Training in the culinary arts for chronically underemployed adults." Don't let this mislead you: the Community Culinary School is not the easy road to a slacker job in a restaurant kitchen. You must pursue this career opportunity with gusto.
Community Culinary School of Charlotte
9315-D Monroe Road Charlotte, NC 28270-1427 704-375-4500

Non-accredited Cooking Schools in Charlotte
They are located in the beautiful Bowers building located in Charlotte's South End area. A 10 min walk from the ScaleyBark Light Rail stop. In the same neighborhood as Brewers at Yancey, Olde Mecklenburg Brewery, Sugar Creek Brewery, Queen Park Social, Good Road Ciderworks and Broke Spoke Distillery.
Chef Alyssa's Kitchen
4001-C Yancey Rd #100
Charlotte, NC 28217
(704) 817-7568
info@chefalyssaskitchen.com
Find A Local Culinary School Today!
Popular School Locations
---
Culinary Training
Top Schools
Majors
Degree Types
Career Information