Culinary Schools in the Napa Valley
An hour north of the San Francisco Bay area in California is one of the premier wine producing areas of the world – Napa Valley. Although some wineries here date from the 1800s, it wasn't until the 1960's that Napa Valley wines became true players on the world stage. Hand-in-hand with world class wine comes world class food, and the Napa Valley has its share of both gourmet boutique restaurants and 5-star establishments. In such a wine and food rich area, it's no wonder there are numerous places where both the weekend gourmand and the next international chef can learn how to improve their culinary skills.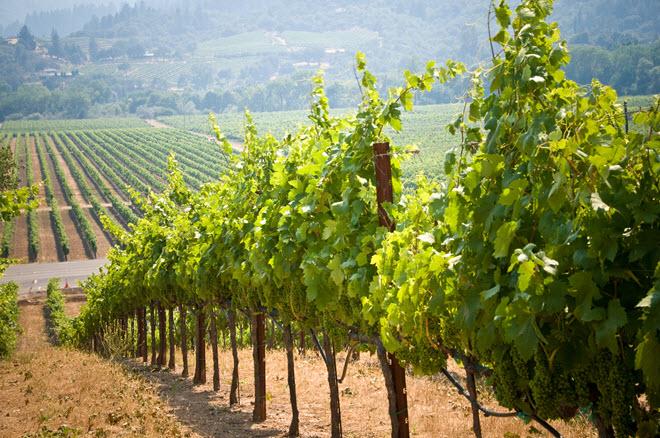 Local Community Schools

The Culinary Institute of America at Greystone
The CIA at Greystone is located at the former Christian Brothers Winery. Set against a historic backdrop, this unique food and wine school provides hands-on cooking classes, multi-day boot camps, and an array of certificates and associate degrees in the culinary arts. They have a faculty of top chefs, restaurateurs, and master sommeliers, as befits a leading institution in the middle of America's premier wine country.

Among the programs offered by the institute include associate degrees in baking and pastry arts and culinary arts, certificate programs in culinary arts, and a master's degree in wine management. It also offers customized continuing education programs for food industry professionals.
The Culinary Institute of America at Greystone
2555 Main Street
St. Helena, CA 94574
707-967-2530
The Culinary Institute of America at Copia
Less than 20 miles away from its sister school, the CIA at Copia is not only a premier institution for cooking and beverage educations. The institution at downtown Napa is a destination for culinary adventurers, art enthusiasts, and the consummate foodie. Besides top-rated classes from a faculty of industry leaders, CIA at Copia also plays hosts to professionally curated exhibits on the art and culture of fine dining and tasting events for those who want to expand their gustatory horizons. Come for the classes and stay for the food.
The Culinary Institute of America at Copia
500 1st Street
Napa, CA 94559
707-967-2500
Part of the Napa Valley College system, Napa Valley Cooking School not only offers top-notch intensive training for aspiring chefs but also offers weekend and evening classes for the intrepid foodie willing to expand their culinary horizons. Its location at one of the nation's leading gustatory destinations gives students access to artisan producers, winemakers, and mentorship from top chefs. The school is dedicated to imparting to its students the technical skills and experience needed for a fruitful career in fine dining.
Napa Valley Cooking School
1088 College Avenue
ST. Helena, CA 94574-1366
707-967-2901

Non-accredited Cooking Schools in Napa Valley

Hugh Carpenter's Camp Napa Culinary School
Hugh Carpenter's Camp Napa Culinary School is a weeklong cooking and winery event held several times a year at the center of America's wine country, hosted personally by Hugh and his wife Teri. First held in 1991, the program is part cooking class, and part culinary adventure that takes them across the historic districts and smaller wineries of the region. The trip is geared toward providing travelers and foodies with an engaging gustatory experience and learning opportunity. Attendees can expect to learn some of the recipes drawn from Hugh's books.
Hugh Carpenter's Camp Napa Culinary School
3960 Hagen Road
Napa, CA 94558 USA
707-363-9707
hugh@hughcarpenter.com
Learners who enroll at Cooking with Julie can expect a hands-on and seasonal approach to cuisine. The program offer a variety of short cooking courses ranging from weekend classes to private lessons that can be held at home or kitchen. In addition, it also offers team-building events for companies and organizations.
Cooking with Julie
1039La Quinta Ct.
Napa, California 94559
707-227-5036
Learners at the Silverado Cooking School are provided not only with a professional kitchen with a state-of-the-art kitchen but also profesional guidance and fine ingredients grown from the school's own farm. Students also share their meals at the end of each of the hands-on classes. The proigram is open for adults and teens above 16 years of age with parental consent or adult accompaniment.
Silverado Cooking School
1552 Silverado Trail
Napa, CA 94559
707-927-3591
info@silveradocookingschool.com
Find A Culinary School near Ashburn With Open Eligibility Today!
Popular School Locations
---
Culinary Training
Top Schools
Majors
Degree Types
Career Information