Culinary Schools in the Napa Valley

An hour north of the San Francisco Bay area in California is one of the premier wine producing areas of the world – Napa Valley. Although some wineries here date from the 1800s, it wasn't until the 1960's that Napa Valley wines became true players on the world stage. Hand-in-hand with world class wine comes world class food, and the Napa Valley has its share of both gourmet boutique restaurants and 5-star establishments. In such a wine and food rich area, it's no wonder there are numerous places where both the weekend gourmand and the next international chef can learn how to improve their culinary skills.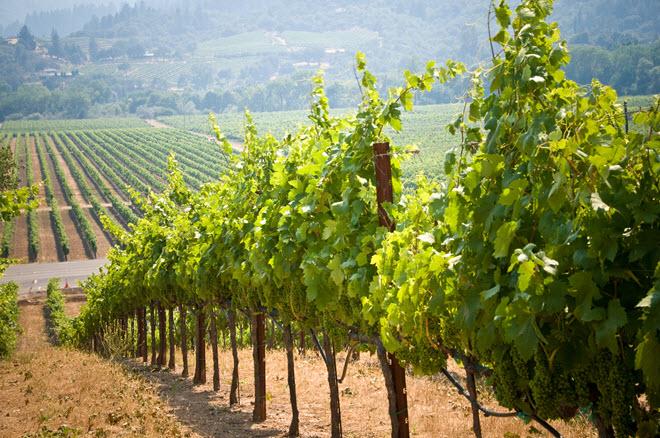 Local Community Schools

The Culinary Institute of America at Greystone
The CIA at Greystone is one of the world's most unique and enriching schools for food and wine education. Their faculty members include top chefs, food executives, restaurant owners, master sommeliers, and more.

They offer Associate degrees in culinary arts or baking and pastry arts, Certificate program in culinary arts and a master's degree in wine management, Customized programs for leaders and professionals in the food industry and classes for food and wine enthusiasts.
The Culinary Institute of America at Greystone
2555 Main Street
St. Helena, CA 94574
707-967-2530
The Culinary Institute of America at Copia
Located in the heart of downtown Napa, The CIA at Copia is the ultimate destination for exploring, experiencing, and enjoying the world of food, wine, art, and community. Experience cooking and beverage classes taught by CIA experts, curated tasting events and festivals, delicious dining selections, artisanal art collections, and private event space, all in one convenient location—the epicenter of food and wine.
The Culinary Institute of America at Copia
500 1st Street
Napa, CA 94559
707-967-2500
Offers high quality, fast paced, intensive training for aspiring chefs. The goal of the program is to provide each student with hands-on, technique driven, culinary and pastry skills required for a career in a fine-dining establishment. The disciplined and professional learning environment, availability of global externships, low student-teacher ratio and focus on sustainability make the Napa Valley Cooking School unique. Located in one of the country's top tourist destinations, the program provides students with access to the Napa Valley's well-known chefs, winemakers, and artisan producers through community involvement.
Napa Valley Cooking School
1088 College Avenue
ST. Helena, CA 94574-1366
707-967-2901

Non-accredited Cooking Schools in Napa Valley

Hugh Carpenter's Camp Napa Culinary School
Offered several times throughout the year, Hugh Carpenter's Camp Napa Culinary school is a weeklong cooking and winery experience in the heart of the Napa Valley. In operation since 1991, Camp Napa Culinary's program is designed for food enthusiasts and travelers who are looking for a kind of learning vacation, combining their love of food, travel, and good wine. The cooking instruction is all based on the recipes from Hugh's numerous cookbooks, 15 at last count, and is geared more for someone who is new to cooking or is somewhat familiar to the kitchen. Professionals may feel a little out of place, or at least not greatly challenged.
Hugh Carpenter's Camp Napa Culinary School
3960 Hagen Road
Napa, CA 94558 USA
707-363-9707
hugh@hughcarpenter.com
Learn to cook in the Napa Valley. Julie's classes take a seasonal and hands-on approach to cooking, combining a relaxed, congenial atmosphere with personal instruction that guides you through every stage of recipe preparation. Cooking with Julie offers a variety of classes to suit your needs. Looking to improve your skills in the kitchen? Need something exciting to do this weekend? Try one of their Saturday classes. Their private classes have the added flexibility of cooking in their kitchen or yours. The small class size allows for more personalized attention. Finally, they offer team building for a fun and delicious day of bonding with your clients or colleagues.
Cooking with Julie
1039La Quinta Ct.
Napa, California 94559
707-227-5036
In their state-of-the-art kitchen, students will use some of the finest equipment available along with fresh, seasonal ingredients from their own farm to prepare delicious meals.
During the cooking classes, you do the cooking under the guidance of a professionally trained chef. After a brief introduction, you will be given various seasonal recipes to prepare. As the dishes are completed everyone will come together to enjoy the meal that they have just prepared.
All classes are hands-on unless otherwise noted and geared towards adults and teens 16+ (with parent consent unless accompanied by an adult).
Silverado Cooking School
1552 Silverado Trail
Napa, CA 94559
707-927-3591
info@silveradocookingschool.com
Find A Local Culinary School Today!
Popular School Locations
---
Culinary Training
Top Schools
Majors
Degree Types
Career Information