Boston Culinary Arts Schools
Boston, the seat of U.S. history and one of the most engaging metropolitan areas in the country, offers a backdrop for your culinary arts education. Right here are the roots to contemporary American fare and the meeting place for international cuisines.
When you choose to study culinary arts in the Boston area you open doors to some of the best ingredients in the nation. This region has a long seafood history and the local restaurants and markets underscore that history. Learn how to choose the freshest local catch, cut it, clean it, prepare it and finally present it to your guests, whether you work in a small kitchen or are expected to cook for an army.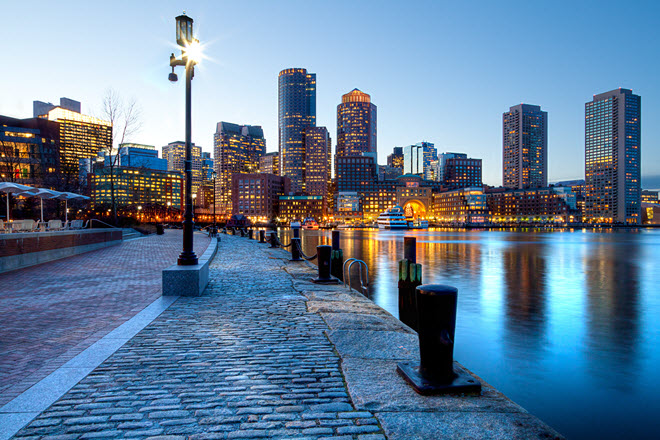 The Woman's Educational Association of Boston founded The Boston Cooking School in 1879. In 1902 the famed school became part of Boston's Simmons College.
Becoming a chef in Boston means one foot in Colonial New England and one in contemporary culture. Master chefs are adept at pairing unique flavor combinations that often underscore their regional tastes with newer international flavors and ingredients. This type of innovation is nurtured when you attend a culinary arts program—you become a chef, not just a cook, but a leader and innovator.
Leading area chefs include Todd English and Jasper White.
Local Culinary Schools
Learn from experienced professionals when you enroll at the HCC MGM Culinary Arts Institute. Whether you want to become a suceesful chef or venture into the tourism and travel industry, you'll learn fundamental skills needed to thrive in the business. HCC offers culinary arts certificate programs accredited by the American Culinary Federation.

HCC offers the following certificate programs:
Applied Science Degree in Culinary Arts
Culinary Arts Certificate
Hospitality Management Certificate
Hospitality Management: Career
Hospitality Management: Transfer
Holyoke Community College
164 Race St,
Holyoke, MA 01040
(413) 552-2321
admissions@hcc.edu
Receive over 400 hours of professional cooking instruction with demonstrations, hands-on practice and field trips at Boston University's Culinary Arts Program.

The intensive course was developed in 1989 by Programs in Food & Wine Founding Director Rebecca Alssid, together with renowned chefs Julia Child and Jacques Pépin.
Boston University Programs in Food and Wine
808 Commonwealth Avenue
Boston, MA 02215
617-353-9852
foodwine@bu.edu
Cambridge School of Culinary Arts
This school offers culinary classes to emerging cooking professionals and passionate hobbyists. The Cambridge School of Culinary Arts provides private events, recreational classes and professional training programs in the art of cooking.
Founded in 1974 by chef Roberta Dowling with her husband Robert, students can choose from certificate and professional culinary and pastry programs for all levels.

Cambridge School of Culinary Arts (CSCA)
2020 Massachusetts Avenue
Cambridge, MA 02140
(617) 354-2020
Provides courses which teach culinary and baking skills, along with food sanitation, menu design and ingredient purchasing. Students are also eligible to transfer all their credits to the Associate in Science Degree: Culinary Arts Program.

Graduates of the culinary arts certificate program are qualified to work in a wide range of positions, including restaurant and line cooking, pastry creation and other related hospitality tasks.
Bunker Hill Community College
250 New Rutherford Avenue
Boston, Massachusetts 02129
(617) 228-2000
The school take pride in five degree and certificate programs in hospitality and culinary arts. MCC prepares students to have thriving careers in the industry, including hotel management, restaurant management, revenue and sales management, event planning and more.
Courses are offered on the Lowell and Bedford campuses as well as online.

Students interested in hospitality can take the following courses:
Food and Beverage Management
Hospitality Management
Travel Services Management
Convention and Event Planning
Students interested in culinary arts can take the following courses:
Culinary Theory
Culinary Skills
Bakery and Pastry Skills
Sanitation / Serv Safe Training
Food and Beverage Management
Food and Beverage Revenue and Cost Control
Program participation requires an internship which gives students real-world experience.
Middlesex Community College
591 Springs Road,
Bedford, MA 01730
Middlesex Community College
33 Kearney Square,
Lowell, MA 01852
Kim Morrissey, Program Coordinator
Morrisseyk@Middlesex.mass.edu
(978) 656-3170
Other Local Culinary-related Training Programs
Provides two educational tracks:
 Bachelor of Science in Nutrition and Food program: Food Service Management
Nutrition, Wellness, and Health Promotion
For Food Service management, students learn operational skills in the food service industry, including budgeting, accounting, pricing and regulations. It also provides instruction on marketing, organizational structures and human resource management.

For Nutrition, Wellness, and Health Promotion, students gain deep knowledge about nutrition information. It also focuses on how they can communicate their expertise to educate and encourage others to make healthier choices, as well as learn how to evaluate community programs.

Students will be able to practice their skills through internships at different food service organizations or health departments.
Simmons University
300 The Fenway
Boston, MA 02115
(617) 521-2000
New England Center for Arts & Technology
NECAT Culinary Arts Training helps unemployed adults build a pathway to a stable, long-term employment in the food service industry. The school provides technical job readiness training together with focused support and employment assistance.
23 Bradston Street
Boston, MA 02118
(617) 442-3600
info@ne-cat.org

Find A Culinary School near Fairfield With Open Eligibility Today!
Popular School Locations
---
Culinary Training
Top Schools
Majors
Degree Types
Career Information