San Francisco Culinary Schools: Chef Training, Restaurant Management
Culinary arts is a passion and whether you are looking for a degree program right out of high school or taking a leap from another career this is a creativity driven industry. San Francisco is the dynamic backdrop for a number of popular culinary academies and cooking schools. Combined with breathtaking scenery, one of the most diverse populations in the country and a cultural smorgasbord, you can't go wrong learning the ropes as chef, professional cook or restaurant manager in this world famous city. AND you get the chance to work in some of the most well-known restaurants and hotels in the world.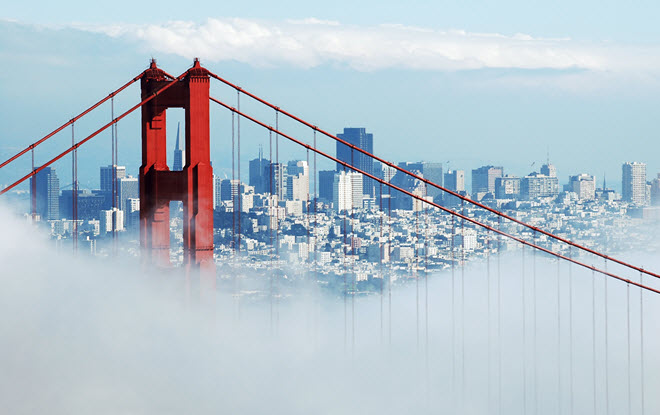 Food Service is Always In Vogue
Food and comfort are basic human needs, which means the culinary arts never go out of style even in the face of serious economic downturn. People still turn to food for comfort and satisfaction. Carve your niche.
Pursue a degree in culinary arts, cooking, or management right out of high school or take the leap as a second career. San Francisco culinary colleges offer top-notch faculty chefs, challenging curriculums, state of the art kitchens and equipment and provide job placement assistance.
Studying in SF
The city is extremely navigable via BART or taxi and many of the neighborhoods are walkable. And don't forget the temperate Bay Area weather.
Imagine yourself as Executive Chef, Sous Chef or pastry chef in one of the leading San Francisco restaurants or hotels:
The Fitzgerald Hotel
Nob Hill Hotel and Colombini Bistro
Scala's Bistro
Imagine the hundreds of restaurants, bistros, bakeries and hotels in which you may apprentice or learn the real ins and outs of your chosen trade. The surrounding countryside offers up some of the richest produce and fruits of the Earth particularly the amazing selection of fine California wines.

Local Community Schools
The Culinary and Hospitality Studies Department of the City College of San Francisco incorporate a rigorous program comprising five-day-a-week programs with classes offered in day and night shift. The Ocean Campus' program is accredited by the American Culinary Federation.  The school offers multiple programs for a broad assortment of learners, including associate degrees and certificates for those interested in a career in cooking and basic training and home cooking classes for culinary newcomers.
City College of San Francisco
50 Frida Kahlo Way,
San Francisco, CA 94112
415-239-3000
Laney College offers two degrees in its Culinary Arts department—Baking and Pastry and Restaurant Management. The latter offers intensive training in the practical aspects of cooking and food service.
Laney College
900 Fallon St
Oakland, CA 94607
510-834-5740
Contra Costa College's Culinary Arts department invites students to learn about the different cuisines and takes pride in both its modern kitchen laboratories and its student-run teaching restaurant Aqua Terra Grill. It also includes the option for students to study abroad in Italy and a chance for students to expand their work experience through events. These learning opportunities help students develop a broad range of skills and competencies quickly.
Contra Costa College
2600 Mission Bell Drive
San Pablo, CA. 94806
510-215-3877
Diablo Valley College's Culinary Arts program trains students in the skills and competencies needed to pursue a career in the hospitality and food service industries. Besides an associate's degree in Culinary Arts, Baking and Pastry, or Restaurant Management, the school also offers career technical certification in these areas. Students develop their skills and accrue workplace experience both through campus facilities and a required internship program.
Diablo Valley College

Pleasant Hill Campus
321 Golf Club Road,
Pleasant Hill, CA 94523
925-685-1230

San Ramon Campus
1690 Watermill Road,
San Ramon, CA 94582
925-866-1822
Their rigorous curriculum is exclusively a hands-on program. You won't spend time in lecture halls and demonstration kitchens. Instead, you'll be on your feet cooking everyday in an intimate private-school experience with small classes limited to 14 students. The school's externship program partners with several big-name restaurants across the city.
San Francisco Cooking School
690 Van Ness Avenue
San Francisco, CA 94102
415-346-2665

Non-accredited Cooking Schools
First Class Cooking provides kitchen novices with informative culinary lessons in a supportive, casual, and engaging environment. Recipes are simple, using top quality locally sourced ingredients. Class sizes are small for a more personalized experience. Lessons range from kitchen tips and basic information to culinary advice meant for more seasoned chefs.
First Class Cooking
1 Bluxome St
San Francisco, CA 94107
415-573-2453
San Francisco Baking Institute
A renowned leader in artisanal baking education, the San Francisco Baking Institute introduces newcomers to the ins and outs of baking bread. Besides offering lessons, it also provides advising services for bakeries and operates its own artisan bakery, Thorough Bread and Pastry.
San Francisco Baking Institute
525 DNA Way
South San Francisco, CA, 94080
650-589-5784
Founded in 2008, Jordan's Kitchen hosts hands-on cooking classes and plays host to both corporate team building events and private lessons. It offers weekly Friday night cooking classes for culinary newcomers.
Jordan's Kitchen
413 10th Street
San Francisco, CA 94103
415-872-9160
Find A Culinary School near Fairfield With Open Eligibility Today!
Popular School Locations
---
Culinary Training
Top Schools
Majors
Degree Types
Career Information