Children Cooking Schools

The culinary awakening of recent years is not leaving anyone behind.  It is well known that the TV culture of celebrity chefs and cooking related programming has awakened a surge of interest in adult chefs, but the phenomenon exists among the younger set as well. Kids are noticing what's on their plates and become inquisitive about how it got there. 
Your home is a great place to launch a child's cooking education, but when it's obviously more than a passing fascination, maybe it's time to investigate a more formal cooking education for your child.  Its never too early to get them started at one of a myriad of kids cooking programs across the country. 
Most schools group kids together in age brackets that keep the material relevant and encourage age-appropriate learning. Your 3-year old is not going to be chopping vegetables, but he or she might measure some ingredients into a bowl and help mix up a cake.
There are additional benefits to learning about preparing food, since math, reading and other core skills are used during the process.  Socializing with other kids in a common pursuit of sustenance fosters cooperation in a way that doesn't put a lot of pressure on them.  Classes end with some type of tasting, where kids and parents enjoy the bounty of the children's efforts, in an ironic counter to most days-when moms the one doing the cooking.
Some cooking schools offer kids classes alongside their standard adult programs, but there are a significant number of specialists who cater just to children.  National programs promote culinary learning for kids with locations in multiple states.  And standalone children's cooking schools are becoming more common in larger cities.
Another valuable resource is found in the many independent food-related retailers who offer cooking demonstrations and classes. Cooking schools are often affiliated with local restaurants or specialty gourmet shops.  Stores that sell kitchen implements usually include classes and demos as part of their business.  Retailer seminars and demonstrations are often free, and include special promotions on items used during the class.
Most children's cooking programs set their itineraries according to the school schedules in their area so that classes are available when kids are out of school.  Summertime learning can be particularly productive since kids are able to report to kid-chef school for several consecutive days. 
Online learning offers a great alternative for kids who are busy being kids, but still have a thirst for increasing their cooking knowledge.
National Cooking Schools with Programs for Kids
Junior Leagues' Kids In The Kitchen
The Association of Junior Leagues International is a women's community volunteer organization that has been around for decades.  Members focus on community improvement that is generated through educational and charitable efforts.  With over 150,000 volunteer members in 300 leagues, the Association makes a significant impact wherever it operates.
Kids In The Kitchen is as an effort put forth by the Leagues in 2006 to address the issue of child obesity. Local chapters focus on teaching young people how to create healthy meals and snacks.  The organization strives to increase generally awareness of healthy eating through public service announcements and local campaigns.
Former Food Network chef, George Stella, lost over 250 pounds through healthy eating, and now serves as the programs national spokesman.  His Kids In The Kitchen message of healthy lifestyle choices is widely distributed throughout the media, especially during the month of March, which is National Nutrition Month.
Other noted chefs promote the grass roots educational effort by taking their message to elementary schools and engaging children in cooking lessons and demonstrations. Kids are encouraged to get their hands dirty, and of course there is healthy sampling to drive home the message that food needn't be calorie and fat-laden to be delicious.
The program is endorsed by a range of food industry players like Eating Well magazine, American Dietetic Association, School Nutrition Association, and The United States Department of Agriculture.
Sur La Table Cooking Classes for Kids and Teens
There is certainly an underlying marketing motive behind the cooking classes offered by this national retailer of cooking implements, but the knowledge conveyed is valid nonetheless.  A wide range of adult education courses are rotated through a diverse curriculum that also includes some lessons and 'camps' aimed at children and teens.
The courses are offered nationwide in a sensible presentation that focuses on scheduling classes during summer and school breaks when moms and dads are starving for kid activities.  For spring break, the retailer puts forth three day boot camps for teens and children that include 2-hour afternoon sessions each day.
Guest chefs and instructors focus on imparting basic kitchen information that is germane to young people.  Learning how to follow recipes, measure ingredients, mix things properly, and handle knives instills confidence in young cooks; especially when the message comes from an impressive real-life professional who is decked out in chef's whites.
With a few basic skills under their belts, the kids are encouraged to test their palates with some basic training in food seasoning and tasting. The boot camp culminates in a cooking competition where mom and dad are encouraged to join in and witness little Johnny's cooking chops firsthand.
Young Chefs Academy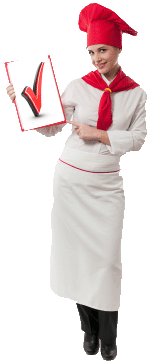 This stand alone cooking school for children is focused on providing a safe and fun environment for budding chefs to explore and discover their own creative culinary points of view.  The growth of the concept has parallels the food awakening that has taken place among adults in recent years.  There are now 29 schools across the country that are fully equipped with kid-sized kitchens and dedicated instructors.
Food prep skills are at the heart of the programs, but kids are also exposed to other important food-related concepts. 
Etiquette, in and around the kitchen, and table service skills are conveyed in a way that keeps kids interested.
Safety is emphasized along the way as kids dive in the to an education that also includes elements of science, math, reading, and health.
A variety of options exist for families interested in participating here.  "Kindercooks" represent the youngest target-group in the 3-5 year old range.  "Junior chefs" can participate in weekly classes if they fall between the ages of five and fourteen.  "Sr. Chef" courses are designed for teens who have reached certain skill-set milestones and want to continue further with their culinary enlightenment.
Cooking parties that focus on birthdays or other occasions are a fun way to break the monotony for adult party-givers.  During school breaks, the schools also offer camps that involve three hours of daily instruction over the course of several consecutive days.  There is a retail component to the school that lets parents assemble gift bags for kids that contain age-appropriate culinary implements and other stuff to keep the kids' culinary juices flowing.
State Cooking Schools for Kids
There is a tremendous amount of culinary instruction available to food-savvy consumers today, and more of it is aimed at children than ever before. Nationally franchised children's cooking schools are popping up in lots of cities, and so are independent ventures dedicated to passing cooking skills to the next generation.  Tune in to your local food scene by way of gourmet shops, kitchen stores, and restaurants to stay abreast of what classes are being offered.
Arizona
Les Petites Gourmettes
This school offers four-day cooking classes for students aged 8-12.  The program runs for five weeks in the summer and relies on cooking demonstrations to teach kids kitchen basics.  There are lots of opportunities for tasting the kids' culinary output when adults are invited to join the feast at the end of class.  Older teens can take the 5-day course offering for 11-17 year olds.  Making soups, pasta, cupcakes and all manners of kitchen creation is addressed in a way that is easily understood by the younger set.

Young Chefs Academy
This program encourages discovery and creativity (see more, above).
California
Young Chefs Academy
This program offers classes for children in a safe and structured environment. (see above)
Florida

Young Chefs Academy
This school has several locations across America. The program is geared towards creativity and expression. (see above)

Massachusettes

Kids Can Cook
This school offers an afterschool cooking program for middle school aged children.

Create-A-Cook
The program offered at this school focuses on fun and excitement in the kitchen, and promotes the creation of great food.

Minnesota

Way-Cool Cooking School
This program imparts valuable life long skills for kids and teens, and encourages fun in the kitchen during weekly classes and summer 'camps'.   The staff also specializes in hosting private events and celebrations.  A new branch is on the way for 2012.

Young Chefs Academy
This program is offered by a nationally known school which focuses on discovery and learning in a safe environment. (see above)

New Jersey

Young Chefs Academy
This school offers a structured program promoting learning and creativity. (see above)

KitchenKapers
This hands-on, supervised program teaches children to make multiple course meals and conveys food appreciation. Nutrition and the importance of fruits and vegetables are stressed alongside proper technique.

North Carolina

Flour Power
This structured culinary experience is combined with plenty of fun. Camps, parties and classes utilize creative themes to keep students focused on food.  Harry Potter and Star Wars themed night are appealing to wide age-ranges and levels of culinary interest.  Cakes, eggs and other familiar foods are tasted after class to help kids build their young palates.
Ohio
The Western Reserve School of Cooking
Hudson-based cooking & baking classes for kids, teens, or parent & child.
Texas
Le Petite Gourmet Cooking Store
A cooking shop that instructs kids during the summertime for only $10 per session.

Young Chefs Academy
Great national program that has a standardized approach to passing fundamental cooking skills on to the next generation of great cooks. (see above)
Washington DC
Classy Kids Cook
The program offered at this school combines important life skills classes with etiquette and culinary arts.
Free Online Training For Kid And Teen Cooks

Online education can quickly be converted to culinary successes, especially in an age when kids can prop their laptop up next to the mixing bowl and engage in some virtual cooking.  And of course, you are an excellent kitchen resource for your children.  Even if you are a lousy cook, you probably know more than they do! No matter which option you choose for your child's culinary experience, each offers valuable learning and life experiences.
Teach Your Kids Cooking at Home
Not sure if your child is ready to attend a culinary class yet? It is never too early to get them involved in cooking at home. Tap these resources to help your budding young chef prosper in the kitchen:
Find A Culinary School near Ashburn With Open Eligibility Today!
Culinary Specialties
International Cuisine
Specialty Schools
Online Options
---
Culinary Training
Top Schools
Majors
Degree Types
Career Information