Online Cooking Schools

Online schools of any kind have carved out their own valuable niche in academia, so it's no wonder that culinary schools have discovered how to offer some courses and degrees online.
Straight culinary arts degrees are rare online and may not even exist for obvious reasons:
Part of a true culinary or chef training program is to immerse yourself in hands-on learning under the direct guidance of a chef/instructor. Few restaurateurs are interested in a chef trained via video or computer monitor.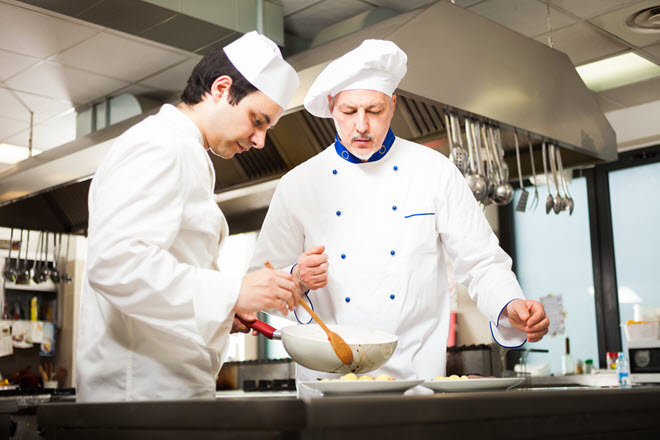 Popular Online Culinary Arts and Restaurant Degrees
Best bets for online culinary school degrees or programs are in management or marketing majors in the hospitality or restaurant industry.
Northern Arizona University offers two online degrees: a B.S. in Hotel and Restaurant Management and a Certificate in Restaurant Management. All courses are delivered in an online format.
Texas Tech University M.S. in Restaurant, Hotel and Institutional Management. This convenient online professional degree is designed for students already working in the restaurant and/or hospitality field and looking to augment their experience with upper-level management courses and other business-centric coursework. Study at your own pace.
Penn State online Undergraduate Certificate in School Food Service Management is designed for students working in school systems. Coursework covers nutrition, operations, management issues, finances and human resources management and supervision.
Challenges of Online Courses
Online sounds really easy and convenient. However, online studies are not for everyone. Ideally web-based learning is suited to students that work or have family commitments keeping them from attending a traditional program on campus. Remember that you may be carving out study time late at night and weekends, after the kids have gone to bed and work is well past over, and dogs have been walked, or whatever other duties you may have.
Most chef students want to be in a student kitchen not in front of a computer monitor. Remember the real art of cooking or pastry arts is a physical study. Competition is tough to study in the company of a highly acclaimed chef. Schools that own their own student-run kitchens are able to turn out aggressively trained chefs that can hit the ground running in a professional kitchen and this type of experience cannot be duplicated via online learning.
Find A Culinary School near Ashburn With Open Eligibility Today!
Culinary Specialties
International Cuisine
Specialty Schools
Online Options
---
Culinary Training
Top Schools
Majors
Degree Types
Career Information