Online Cooking Schools

Culinary schools open up your mind to a new and unique experience, and they also open up opportunities for the future. Earning a culinary degree gives you potential to work in the food industry as a professional chef or manager of a kitchen, behind the scenes as a food critic, and more positions that promise a colorful experience with constant learning. The added benefit of a culinary degree is that the industry is not stagnant because of the continual improvement. People quit one chef position to take another, some choose a different field, and others abandon their style of cooking for a new one. For those entering the industry, this provides comfort that opportunities are always popping up, and there is always room for advancement.

Many more institutions are trading in the classroom for the world wide web, and their degree programs are following them. Culinary schools are no different. Online culinary schools offer all the training you would receive if you practiced at a physical location, but takes away much of the stress. Working online means that your current job that pays your bills will not suffer as you earn your culinary degree that will lead you to a career.

Because culinary school is traditionally a hands-on program, earning your degree online must take an alternative approach. Many organize their program into two distinct aspects.
Theoretical courses are taught effectively online. This area will focus on subjects including food science, safety, hygiene, and cost control.

Practical experience and demonstration are necessary to perfect your cooking skills. Many courses will have live demonstrations via a web cam. Others will offer programs in your area that allow you to combine your online work with an in person tutor. All will recommend that you search for an internship in a kitchen that will allow you to practice under the supervision of a chef with experience.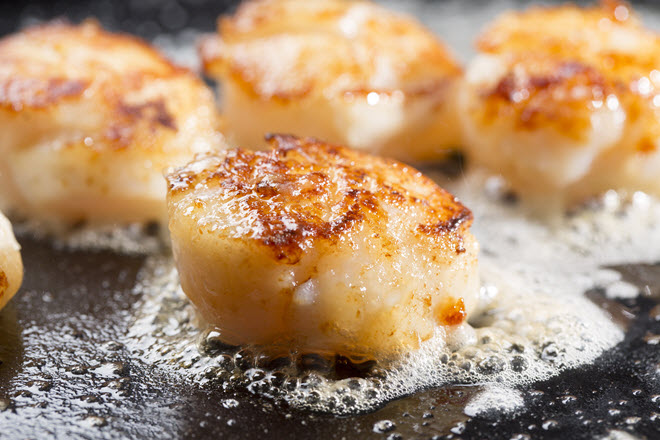 Choosing an online culinary school is no different than choosing a physical campus to attend. Check that the school is accredited to ensure that your culinary degree will hold value after you graduate. Research what kinds of financial aid are offered both from the school and other agencies that may offer grants and scholarships to the institution.
Americal Culinary Federation Education Foundation Accredidation
Keiser University, the Art Institute of Pittsburgh, and Le Cordon Bleu are all accredited by the ACFEF. Culinary programs that are ACFEF are among the best possible and also offer the greatest opportunities after graduation. In order for a school to qualify for this honor, it must prove quality in several areas: curriculum, resources, faculty, support staff, and organizational structure.

The benefits of attending an ACFEF accredited culinary school do not cease after your formal education has. Students of these schools are eligible to receive an ACF certification after graduation for up to one year by completing the necessary requirements specific to your education. If a culinary degree impresses a future employer and attending an ACFEF accredited school gets you the interview, your ACF certification is bound to get you your dream job.
Keiser University
Keiser University Center for Culinary Arts – Associate of Science

Keiser University has both physical campuses as well as online programs. It has an Associate of Science degree in the Keiser University Center for Culinary Arts, and it is accredited by the American Culinary Federation. The program contains laboratory sessions, academic preparation, and hands-on experience that range from the basic to the most advanced. The curriculum also includes an internship to fully prepare the students for real world work after graduation. However, only the first aspect of the program can be completed via the internet, but since Keiser is a nationwide accredited school, most likely there is a campus in your area.

No prerequisites are necessary to take the major courses, but 84 credit hours are needed to graduate with 60 consisting of culinary arts major courses. Many of these courses are available to take online. Here are a few examples of the online courses:
Nutrition and Sensory Evaluation

Principles of Food

Storeroom Operations

Food Service Sanitation
While it may be frustrating that Keiser does not offer an alternative to the hands on experience, but it is to uphold the prestigious name they have built, a name you will carry with you after you graduate. Here are a few examples of the on campus courses:
Stocks and Sauces
Classical French Cuisine

Pastries and Desserts

World's Popular Cuisines
Keiser University will provide you with the knowledge, experience, and trusted name that will in turn provide you with the career path of your choice
The Art Institute of Pittsburgh
Culinary Arts Management Degree – Bachelor of Science

Having a degree in pretty much anything puts you miles ahead of most of your competition, but if you have completed an accredited cooking program, held an approved internship/apprenticeship, or received certification, a bachelor's degree in culinary arts management proves you're all encompassing of knowledge of the culinary business. The Art Institute of Pittsburg has been operating for more than 85 years making it an institute you can trust and future employers will respect. While their online division is relatively new, it is accredited by the Middle States Association of Colleges and Schools, Commission on Higher Education (MSCHE) as well as the ACFEF.

The necessary courses to earn your degree from this online culinary school is not as hands on and more informative, but no less educational. You will begin with business mannered courses such as human resource management, accounting, and law and ethics. As you progress, the courses become more specific to the uniquely culinary aspect of the management degree. The skills that the Art Institute of Pittsburgh will teach you will give you leverage in an existing culinary industry as well as the capability to erect one of your own. Here are just a few of the career paths you will be able to travel after attending the Art Institute of Pittsburgh:
Manage a catering business

Work in food research and development

Become a food critic or inspector

Teach culinary classes of your own

Manage or own a restaurant
Not only will you be given the capabilities to achieve those goals, but the Art Institute of Pittsburgh provides career services to its students to aid in the job hunt after graduation. This institution has some of the highest graduate and job placement rating. Because of the prestigious and renowned name, many opportunities are opened up with a Culinary Arts degree from the Art Institute of Pittsburgh.
Le Cordon Bleu
Bachelor of Arts in Le Cordon Bleu Culinary Management

The program offered online at Le Cordon Bleu is similar to that of the Art Institute of Pittsburgh. Cooking classes are offered exclusively on campus to ensure quality and the reputation of the institution. However, with an accredited associate degree in culinary arts or hospitality and restaurant management, a Bachelor of Arts in culinary management advances career potential with the flexibility of online classes

Le Cordon Bleu focuses on a wide variety of topics that are relevant to the food industry, and they are often advanced to ensure you graduate with the best possible education. Some of the topics include:
Facilities and event management

Organizational psychology

Financial management and cost control

Marketing and research

Business development
Le Cordon Bleu is an accredited school, has the convenience of online capabilities, and provides you with skills that are ideal for the food industry. In addition, having a bachelor's degree in arts is impressive to an employer in nearly any field.
Should You Study Culinary Arts Online or on Campus?
There are many pros and cons that accompany attending a culinary school online. Consider all the positives and negatives before you decide that you do not want to attend a traditional campus.
Negatives of Online Culinary Schools
Difficult to find a program that incorporates practical experience

Less social interaction

Requires greater self-motivation

Less flexibility
Positives of Online Culinary Schools
Ideal for those interested in every aspect of food service industry

Tuition is often much cheaper than psychical institutions

Total cost is reduced even further by not having to commute

Flexible schedule: learn, study, and progress at your own pace
These, of course, are only a few of the considerations that you must make as you are choosing an online culinary arts school. The most important aspect to remember is that to earn a degree with value, the school must be accredited. Do not sacrifice your education to save a few bucks or earn a "no-brainer" degree. Holding a culinary arts degree is an honor that opens opportunities, and choosing an online culinary school is not a decision that should be taken lightly. Take time to research and get ready for the experience of a lifetime.
Find A Culinary School near Fairfield With Open Eligibility Today!
Culinary Specialties
International Cuisine
Specialty Schools
Online Options
---
Culinary Training
Top Schools
Majors
Degree Types
Career Information