Edible Crafts for Culinary Kids!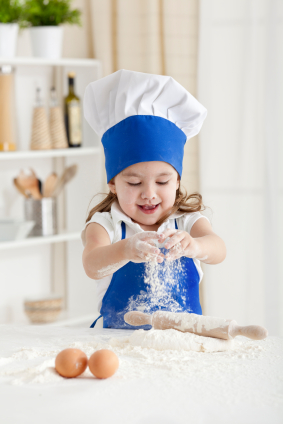 Edible crafts are both fun and educational for young children. Children exercise their small motor skills by helping parents put together the ingredients for many edible crafts. They also learn about the measurements and different sorts of ingredients that are involved. Furthermore, a child gets to use his or her imagination when creating a unique craft. Best of all, an edible craft can be admired by all members of a child's family and then eaten!
The following are several edible crafts that parents and children can work on together. As a note, some of these edible crafts contain peanut butter and other allergens, so parents must evaluate each craft to see which would be appropriate for their child to help with. If there is a possibility of an allergy with a particular craft, parents should avoid that project. A parent should be sure to supervise and assist children as they go about creating some of these fun crafts.
Peanut Butter Play Dough Recipe (No cooking involved!)
Ingredients:
3.5 cups of peanut butter
4 cups of dry milk
4 cups sugar
3.5 cups of honey
Directions: (Process takes approximately fifteen minutes)
Combine peanut butter and sugar in a bowl. Using a mixer blend in dry milk and honey with the peanut butter/sugar. Continue to mix all ingredients until smooth. Parents may add food coloring to make this mixture look like the real thing!
Fun Edible Insect Crafts (Choose from a list of edible bug crafts including…)
Chocolate Pretzel Spider
Ingredients:
One package of Oreo cookies or sandwich crackers
One bag curvy pretzels
One container chocolate frosting
One bag of M&M's
Directions:
Use a small amount of chocolate frosting to stick two of the Oreo cookies together, side by side. Carefully break apart the pretzels to form the spider's eight curved legs. Once again, use the chocolate frosting to secure the legs to the cookie body of the spider. Give the spider M&M eyes by attaching them to the body with frosting.
Flower Lollipop Edible Craft (Cooking required)
Ingredients:
One package of Lifesavers (Each lollipop requires seven candies)
One package popsicle sticks
One baking sheet
Foil
Directions:
Preheat the oven at 250 degrees Fahrenheit. Cover the baking sheet with foil and put a popsicle stick on top of it. Place three or four lifesavers on top of the stick. Then, place two or three lifesavers next to the ones on the stick to form the petals of the flower. Make sure that all of the lifesavers are touching so the melting will secure them together within thirteen minutes. Once the lollipops are cool, parents can help kids to take them off the foil. Be sure to keep adequate watch over the lollipops in the oven.
A Selection of Fun Edible Crafts (A delicious list of edible crafts such as…)
A Rainbow in a Cup
Ingredients:
Red, orange, grape, yellow, and green jello powder mixtures
Water, both hot and cold
A few clear, plastic cups
A refrigerator
A stove
Directions:
Follow the directions on the jello box to prepare the red jello. When it is prepared, pour a little in each clear plastic cup and put them in the refrigerator to set. Once the red jello is set in each cup, repeat the process with your next color of jello. This craft involves a gradual process, but kids will end up with a collection of cups with rainbow treats.
Ingredients:
One can of chocolate frosting mix
One cup of peanut butter
1 ½ cups of dry powdered milk
Directions:
Mix all of the ingredients together with clean hands. Knead until the consistency of the real thing.
Ingredients:
A package of strawberry (shoestring-type) licorice
A package of marshmallow bunnies
A box with cereal that is o-shaped
A bag of small curvy pretzels
Directions:
A parent can poke holes in the ears of the marshmallow bunnies so kids can string the licorice through to begin the necklace. Then, kids can string on the cereal and pretzel pieces in any arrangement they want along with more marshmallow bunnies. After the necklace is complete, kids can wear (or eat) them.
Ingredients:
A box of cupcake mix (any flavor)
A bag of mini marshmallows
A tube of icing
A bag of chocolate chips
Directions:
Prepare the cupcake mix and let the cupcakes cool. Create the sheep's face by securing two chocolate chip eyes and a nose with the tube of icing. Then, secure the mini-white marshmallows on the cupcake as a woolly frame around the face of the sheep.
Ingredients:
Two envelopes of unflavored gelatin
1 ½ cups of sugar
2/3 cup light corn syrup
1/8 tsp salt
1 tsp pure vanilla extract
Vegetable oil cooking spray
12 X 17 inch cookie sheet with rim
Candy thermometer
Parchment paper
Directions:
Spray the cookie sheet with cooking spray and line it with parchment paper. Pour 1/3 cup of cold water into a bowl and sprinkle in gelatin. Mix and soften for about five minutes. Pour the sugar, corn syrup, salt, and 1/3 cup of water into a saucepan, cover, and bring to boil. Take off the lid, stir, and use a candy thermometer to make sure the mixture reaches 238 degrees (takes about five minutes). Continue mixing the gelatin/water on low and pour in syrup mixture. Increase mixing speed until the white mixture is thick (takes about twelve minutes). Add vanilla. Pour mixture onto cookie sheet and smooth out with a spatula. Allow the mixture to stand, uncovered, overnight. The kids can help make the snowflakes by using a star-shaped cookie cutter on the white mixture. A little sprinkle of confectioner sugar gives the snowflakes a dusty appearance.
Ingredients:
One bag of gum drops
One bag of candy corn
One bag of small apples
A container of paper muffin cups
One box toothpicks
One box of spaghetti
Markers of several colors
Directions:
Use the markers to decorate a muffin cup which will serve as 'Johnny Appleseed's' hat. Break three or four toothpicks in half and stick them in the small apple where the eyes, nose, and mouth will go. Then, stick two gum drops on the toothpicks for the eyes and a piece of candy corn on the toothpick as a nose. His mouth can be formed out of gum drops. Cook the spaghetti, cool it, and drape several strings over the apple's top to create Johnny Appleseed's hair. Lastly, put the muffin paper hat on 'Johnny's' head. This is a cute craft that can be admired and then eaten!
Ingredients:
One box of fruity cereal in an o-shape
One bag of licorice whips (thin)
Directions:
Kids and parents can string the o-shaped cereal pieces onto a thin strip of licorice. The type of cereal can be varied as long as it is o-shaped. Also, bracelets can be made with shorter pieces of licorice.
Ingredients:
One large watermelon
One small watermelon
One medium watermelon
One container blueberries
One melon baller
One large spoon
Two Y-shaped sticks
Directions:
The small watermelon will remain intact and be the snowman's head. Cut the large watermelon and the medium watermelon in half (lengthwise).
One of the medium halves will be the middle portion of the snowman and one of the large halves will be his bottom portion.
Line them up beneath the head.
Take a large spoon and clean out the flesh of both the middle and bottom portions. Use the melon baller to scoop two balls out of the snowman's head for the eyes.
Put balls back into the snowman's head, red side up.
Then, use the melon baller or a knife to create the snowman's nose as well as to carve a mouth.
Put blueberries in as the snowman's mouth.
Kids can position the sticks for the snowman's arms.
Finally, kids can help to fill the middle and bottom portions of the snowman with blueberries and melon balls from the leftover watermelon halves.
Creating Marshmallow Snowflakes
Ingredients:
One box of toothpicks
One bag of big white marshmallows
Directions:
Beginning with a single marshmallow, stick a toothpick into each side of it. Attach a marshmallow onto the end of each of those toothpicks. Continue to build outward until a unique snowflake has formed.
Recipe for Peppermint Play Dough
Ingredients:
1/3 c. soft butter
1/3 c. light corn syrup
1 to 2 tsp. peppermint extract
½ tsp. salt
1 lb. powdered sugar/icing sugar
Directions:
Combine corn syrup, butter, peppermint, salt, and coloring if desired. After mixing well, add the powdered sugar. Knead the mixture, adding a little more powdered sugar if needed. Be sure to store it in the refrigerator if it is not to be used right away.
Ingredients:
One bag large marshmallows
One box toothpicks
One bag pretzel sticks
One bag mini M&Ms
One tube white icing
Directions:
Using two toothpicks stack three marshmallows atop one another. Use mini M&M's as the snowman's eyes, one for his nose, and three for his mouth. Attach these with white icing. The pretzel sticks can be the snowman's arms.
Ingredients:
One container of cool whip
Food coloring
Directions:
Mix a small amount of food coloring with a large spoonful of Cool Whip. Kids can create artwork on a clean sheet of paper or even a clean tabletop with this edible "paint."
Ingredients:
3 cups of powdered icing/sugar
¾ c. powdered milk
6 tbsp. cocoa
½ c. soft butter
½ c. light corn syrup
Directions:
Make sure that the butter is soft at room temperature and mix together the rest of the ingredients. Knead the mixture into clay-like consistency.
Ingredients:
A medium sized glass jar
A bag of M&M's
A bag of peanuts
A box of raisins
A ribbon or bow
Directions:
Use the edible ingredients to create layers of treats in a glass jar. Makes a great gift for a kid to offer a friend or to keep at home.
Ingredients:
Ice-cream cones
Round biscuits
Ice-cream wafer biscuits
M&M's
Icing
Directions:
Fill an ice-cream cone with M&M's or other little treats and secure it to the biscuit with icing. Create a design of stars around the bottom of the cone. Take two ice-cream wafers and cross them at the top of the cone to make the windmill paddles (attach them with icing). M&M's and other small candies can be used to decorate the base and the rest of the windmill.
Ingredients:
One box of instant chocolate pudding
2 cups of icy water
Directions:
Mix instant pudding with water for approximately two minutes. Put in the refrigerator for five minutes or so. Kids can create a work of art and taste their 'pudding paint' at the same time!
Edible Crafts (A list of edible crafts that includes..)
Edible Caterpillar
Ingredients:
One banana
Grapes
Peanut butter
Directions:
Take the peel of a banana and cut into coin-type slices. Use the peanut butter to secure the slices together in the shape of a caterpillar. Also, use the peanut butter to attach the grape to the top of the banana to serve as the caterpillar's head.
Culinary Specialties
International Cuisine
Specialty Schools
Online Options
---
Culinary Training
Top Schools
Majors
Degree Types
Career Information