Chef Gordon Ramsay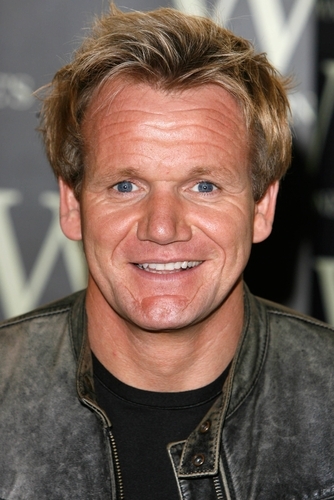 Decked in Michelin stars, Chef Gordon Ramsay is best known to TV viewers for his sharp rebukes of chef-students and reality show competitors. His television personality has been molded into that of an incendiary and drama-inciting hothead. To some, it makes for interesting TV, but is this really what Ramsay is like?  For culinary students, the answer is clear – who cares!  Your focus instead should be on his success and accomplishments as a chef and restaurateur.
Ramsay was born in Scotland, but raised in England.  His early aptitude was in sports, but an injury changed his course and placed him on a culinary path.  He studied hotel management before getting busy in the kitchen full time.  By 1993, he was a working chef in Aubergine, and in 1998 launched his own venture, Restaurant Gordon Ramsay.
Michelin's 3-star rating is one of the most esteemed recognitions within the restaurant industry.  As a culinary student, you will become familiar with the award, because it represents the best-of-the-best chefs and eateries for you to emulate.  Ramsay's restaurant was awarded three stars very quickly, and has become one of only a handful of restaurants in the UK to consistently maintain the coveted status.
Today, Chef Ramsay operates restaurants all over the world-from Italy to LA.  He is a best-selling author and highly visible television personality who divides public opinion with his TV antics.  Love him or leave him, his record of culinary excellence cannot be denied.
Ramsay's Culinary Career
The sharp-tongued Chef Ramsay spent his early culinary days pursuing classical French technique, working with a number of influential chefs. He relocated to France for a stint as chef in a ski resort, then followed up with an esteemed gig as private chef, aboard a privately owned luxury yacht.
Ramsay's first foray into restaurant ownership was with his flagship Restaurant Gordon Ramsay at Royal Hospital Road, a Michelin three-star winner. Since then, he has launched nearly 2 dozen restaurants, including Petrus, The Boxwood Café, and Verre in Dubai.
His ventures, like Maze, Maze Grill, Foxtrot Oscar, The Narrow and Savoy Grill are diverse in their gastronomic offerings, but they share Chef Ramsay's unrelenting commitment to quality and consistency. The Chef's most recent endeavor, Bread Street Kitchen, launched in 2011.  He employs a series of highly regarded chefs to meet the expectations of discerning diners, who have come to expect only the best from Ramsay's brand.
Executive Chefs at his restaurants include these talents:
Mark Sargeant Executive Chef at Claridge's. He studied Hospitality at West Kent College and worked with Ramsay - initially as sous chef.
Angela Hartnett, Executive Chef at Murano, is also a distinguished chef and author in her own right. Chef Hartnett received her chef training on the job. She went to work in one of Ramsay's kitchens in 1994 and in 2008 opened Murano.
Stuart Gillies, Executive Chef at The Boxwood Café.
Ramsay's culinary empire is now managed under the auspices of Gordon Ramsay Holdings Ltd.  For a career leg-up, students should visit gordonramsay.com to peruse an up-to-date listing of employment opportunities within his restaurant group.
Celebrity Chef and Author
Chef's TV personality has brought him legions of fans; some who are particularly interested in food TV, and others intrigued by the drama he incites. Reality TV is a medium in which Ramsay is particularly at home, as evidenced by his successful ventures into the programming niche. Kitchen Nightmares, Hell's Kitchen, and Masterchef US have all enjoyed multi-season runs, with Hell's Kitchen garnering an impressive 9th season.
As an author, Chef Ramsay markets a series of formulaic cookbooks, tackling Epicurean subjects like Great British Pub Food, Sunday Lunch, Just Desserts, and World Kitchen.  His recent autobiography, Roasting in Hell's Kitchen has been well received by his adoring fan base.
Influence as Educator
Tante Marie
is the UK's oldest independent cooking school.  The quaint institution operates under a progressive arrangement with Chef Gordon Ramsay that taps his experience, and the skills of his company's top chefs.  Coursework input is provided by the chef's team to create a curriculum that is comprehensive and based on real employment scenarios.
Find A Culinary School near Ashburn With Open Eligibility Today!
Famous Chefs
---
Culinary Training
Top Schools
Majors
Degree Types
Career Information