Kiviak, Greenland Inuit Fermented Seal dish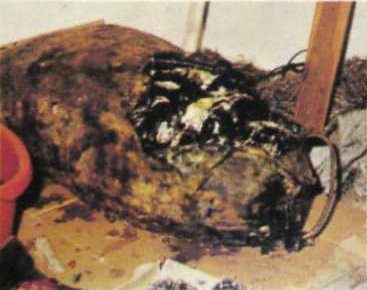 Whole seagull/auk birds fermented within suture-closed freshly disemboweled seals. Oils are applied to the skin to prevent infestation by maggots. The pelt (containing the whole seagulls/auks) is buried underneath a large, flat stone, seam-side up to prevent rupturing by the gases that evolve and contamination. The pelt is dug up several months later when fermentation is complete.
The sutures are then cut to reveal the fermented seagull/auks. The fermented intestinal fluids are sucked out from the whole birds, or used as a sauce for other foods. It is said to taste similar to natto paste, or very mature cheeses.
References/images:
http://kiviak.com/
http://foodlorists.blogspot.com/2008/12/kiviak.html
Submitted by Lee Tantral