Life of a Sous Chef
What is a Sous Chef? The mysterious sounding name is derived from the French word meaning "under." This kitchen pro works closely with the Executive Chef, as second in command, in the classic hierarchical kitchen structure known as 'brigade'.  The brigade system formally delineates the position of each kitchen worker, and while its strict application depends on the type and size of the kitchen, in most cases a sous chef will be present, as an integral part of the management team.
For culinary students, obtaining a sous chef position is often eyed as a hallmark level of achievement.  On-the-job experience is essential for any kitchen worker who wants to climb the ladder, so sous chef is generally not considered to be an entry-level position.  If you are a culinary student whose ultimate goal is to be an Executive Chef, focus your efforts on mastering each kitchen 'station', with an eye toward advancement.
Think of the position as 'assistant chef', in much the way you might thing of a lower level, front of the house supervisor, as 'assistant manager'.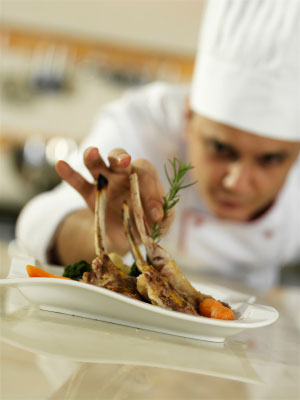 As a sous chef working in a large kitchen or institution, you may be one of several staffers who hold the position. One way or another, the sous chef designation bridges the professional gap between line cooks and the Executive Chef.
Precise responsibilities for sous chefs vary across establishments, based on the size, scope, and organizational structure of the enterprise, but sous chefs always assist upper level managers with executing kitchen practices that lead to a high level of guest satisfaction.  Traditional roles for sous chefs are found in settings like resorts and hotels; but increasingly, personal chefs and caterers are tapping experienced cooks to act as their assistants.
Sous Chef Job Description
In practice, many kitchens keep long daily hours of operation.  Hotels, resorts, cruise ships and other hospitality outlets provide breakfast, lunch and dinner.  That's a lot of hours to account for, so sous chefs often work opposite their chefs, to provide management coverage during the chef's off-time.
As second in command, your job as sous chef can be an opportunity waiting to happen.  As chefs move on, or are promoted to food and beverage directorships and general manager jobs, sous chefs are perfectly positioned to step in to Executive Chef roles.  The mentor/apprentice relationship that exists between chefs and their assistants also adds value to the sous chef role.  Household culinary names rose to their positions of prominence by working under chefs who showed them the ropes.  Learn and earn with a 'whatever it takes' attitude in the kitchen, so you are ready to answer when opportunity knocks.
Becoming a professional chef is all about rising up through the culinary ranks.  By identifying and embracing the skills employed by successful sous chefs, you are able to properly augment your educational credentials with the knowledge that employers want to see.  In general, sous chef's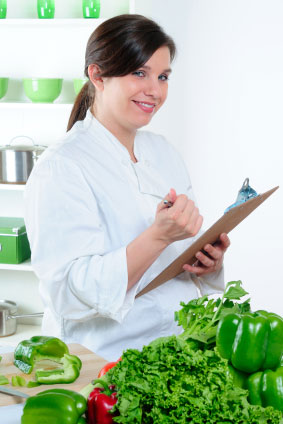 assist their chef bosses in these areas:
Creation and delivery of daily menus and dishes.
Training apprentice chefs, line cooks, and other kitchen staffers
Division of labor within kitchen stations  
Inventory control
Food cost control
Staff supervision and scheduling
Sanitation and hygiene
Equipment maintenance
Banquets and catering
Leadership by example
Cross-marketing for increased sales – pairing wine with food, etc.
Conducting food tastings for potential clients
Remember, these are job duties typically assigned to sous chefs, but several factors figure prominently in determining how you will actually spend your workday, should you land a sous chef job. The type of restaurant or kitchen in which you work, the size and scope of the enterprise, and the way your kitchen is organized -personnel wise, help define how your sous chef skills will be applied.
Sous Chef Education and Employment
An Associate's Degree from a decent cooking school places you on solid ground for kitchen work that leads to a management position.  This alone, will not get you on the payroll as a sous chef.  Work experience is the lubricant that slides your education credentials down your chosen career path.  Employers want to see a proven track record of successful staff supervision and daily operations management before elevating you to an upper level kitchen position.
Obtaining a Bachelor's Degree illustrates your commitment to the craft and embodies advanced exposure to the principles and practices required for hospitality management work.  But don't expect to start at the top of the heap. Your culinary path to greatness is surely enhanced by advanced studies, but Executive Chefs have climbed the ranks in their own right, so they know where you stand when you are fresh out of school.
Smaller restaurants may choose to employ an Executive Chef and a team of line cooks, without the need for a formal sous chef designation. But you can bet that larger kitchens, adhering to the formal brigade system, employ at least one sous chef – and quite possibly more. Sous chefs find employment at resorts, hotels, cruise lines, casinos, fine-dining restaurants, test kitchens; with personal chefs, caterers and a host of other food service providers.
To advance your career, acquire solid fundamental culinary schooling, then log some quality hours in the kitchen.  The industry promotes from within, so put your professionalism and culinary chops on display every time you go to work – your chef boss will notice and make you his go-to sous chef.
Sous Chef Salaries
Sous chef salaries vary widely. Factors that contribute to compensation include:
Region of the country
Type of restaurant - be it high-volume, fine-dining, casual, institutional, etc.
Specific job responsibilities
General economic climate
Level of education
Career experience
Annual salaries commonly fall between $30,000 and $40,000 for sous chefs in most areas, but greater earning potential is certainly possible for skilled professionals. (source, Payscale.com)
Find A Culinary School near Ashburn With Open Eligibility Today!
Types of Chefs
---
Culinary Training
Top Schools
Majors
Degree Types
Career Information