Chef Garde Manger or Pantry Chef: Job and Salary
When translated, Garde manger refers to a cool storage area for food.  Historically, the job of Garde manger was required in wealthy homes where cold storage and well-stocked pantries were critical to survival. Prior to the advent of modern refrigeration and cooking methods much of the traditional food was stored in a preserved state that required cold temperatures.
The cold food was kept in the lower levels of the house, away from the main activities of daily life. Because it was administered far away from the other culinary activities of the house, the role of designated pantry steward naturally evolved.
In the modern kitchen staff hierarchy, the Chef Garde manger job is not always consistently defined, but it is usually centered around the cold food preparation area that produces items like salads, appetizers, pates and other cold foods.
Modern comprehensive culinary arts programs spend most of their time training chefs in the various kitchen stations, including the station of pantry chef, or Chef Garde manger. So what's so special about the job of pantry chef?
The Job of a Garde Manger or Pantry Chef
In practice the position encompasses a variety of restaurant responsibilities.  Larger facilities like banquet halls and hotels are known for elaborate buffet presentations that often fall under the realm of the Chef Garde manger.  Such displays of culinary creativity often call on the chef to produce elaborate edible displays or ice carvings.
In smaller restaurants with more conventional needs, the pantry chef might be responsible for producing only a few items like cold desserts and salads.  The stature of such a kitchen employee might mirror that of any other line cook.
Charcuterie is an expanding food trend that is often a component of the pantry chef's overall responsibility.  The discipline is explored casually in some restaurants, but other chefs have made entire careers of producing superlative homemade sausages.
Other menus demand precise hors de houvres presentations that feature creatively carved components that are as artistic as they are nourishing.  Skilled pantry chef's are in demand for their ability to transform ordinary cold foods into visually stimulating canapés and other interesting bites.
In general, the specialization of the Garde manger position is largely determined by the type and size of the restaurant or culinary facility.  The position provides ample opportunities for chefs of at all levels of achievement.  Entry-level pantry chef jobs are a great foot in the door for recently graduated culinary professionals because they provide an opportunity to master a specialty straight out of school.
Garde Manger's Specialties
In most restaurants, the pantry chef stocks, prepares and plates foods from the 'cold-side' of the kitchen line. For example, in an Italian restaurant preparing the antipasto course, a tray of cold cuts, fresh Italian vegetables, and cheeses, would be the job of theGarde manger.
Eateries known for desserts might keep their chef Garde manger busy presenting cold desserts like seasonal fruit dishes and ice cream.  Items like cheesecake are prepared by accomplished bakers, but it is the Chef garde manger who often transforms the items into works of art at plating time.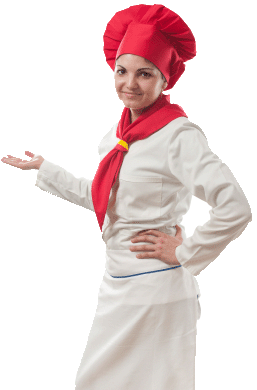 Types of foods commonly prepared and presented by the kitchen Garde manger:
Salads
Cold soups like gazpacho
Fresh fruit
Canned and preserved foodstuffs
Fresh vegetables, dips, relishes
Butters and spreads
Preserved meats, or charcuterie
Cheeses
Garnishes
Ice sculptures and other formed food
Kitchen leftovers repurposed into new dishes
Career Opps for Garde Mangers
Fine restaurants offer the opportunity to work in traditional and specialized Garde Manger positions.  In the Brigade de cuisine structure of kitchen management, the chef Garde manger traditionally occupied a high level position.  Where responsibilities and accomplishments warrant it,  Garde manger specialists are employed in a similar capacity today.
Other applications for the specialty are found at the entry level, where extensive technical abilities might not be required to administer a particular menu.  Starting here allows culinary graduates to continue along a Chef Garde specialty, or use it as a stepping stone to a desired position.
To tackle the discipline head on, students should seek out culinary schools that specifically include Garde manger training in their curriculums and then compete for professional chef jobs that recognize the key role played by professional pantry chefs.
General job description for a Garde Manger:
Experienced in choosing, preparing, and presenting cold foods, such as salads, cold soups, meats and cheeses.
Knife skills - cutting, chopping, carving, dicing.
Ability to fill-in at other stations when chefs are absent.
Responsible for inventory, preparation and presentation of select dishes and food items.
Able to work in a team-oriented environment and under considerable stress.
Responsible for station hygiene and sanitation.
May be required to assist with menu development, especially use of leftovers.
Ability to supervise and train others.
Garde Manger Career Path and Salary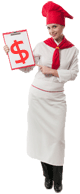 Remember, when it comes time to find a job in your specialty as Garde manger you'll be a candidate for two types of jobs: entry-level (basically a salad plating job) and professional Garde manger or pantry chef with a wide array job responsibilities. Your education and experience will dictate which job you land.
Expect to earn on average between $9 and $15 per hour as an entry level pantry chef.* With experience and education, top Chef Garde Mangers can climb the salary ladder to a level that is on par with other specialty chefs.
The specialty is a fine launching pad for entrepreneurs seeking to open their own eateries.  Many pantry chefs are well trained in the techniques of other kitchen stations, so the transition to being responsible for an entire restaurant menu is natural for experienced Chef Garde mangers.
Other pantry professionals will move to another discipline within the kitchen, using Garde manger training as a foundation builder for a broader culinary experience.  Anyway you slice it; the career trajectory of a pantry chef can be an excellent choice for food professionals trying to make a mark in the industry.
*source, Payscale.com
Find A Culinary School near Fairfield With Open Eligibility Today!
Types of Chefs
---
Culinary Training
Top Schools
Majors
Degree Types
Career Information