Become a Food Stylist
Passion for food and art collide in the career minds of talented professional food stylists. We eat with our eyes, so the overall visual aesthetic of our food can be as important as its aroma for driving our desire to eat it.  Food appreciation is based on memories and associations we form about the foods we encounter during our lives, so when our senses make a visual connection to a dish, we are transported through our minds, to the place the dish occupies in our hearts.
The symphony of stimulation that follows our first sight of food draws on the rest of our senses to appreciate the aromas and flavors of a dish, but the first impression is made by food's appearance. The importance of a good-looking plate is an important part of any chef's education, but for a select few specialists, it defines their careers.
Knowing how and where to find the most attractive produce or setting up a delicious-looking food photo-op might be outside the scope of expertise for most kitchen workers, so a food service employment category called Food Stylist has emerged.  The profession draws from a pool of artistic minded foodies who often have chefs training.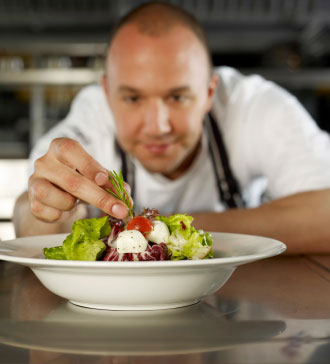 Print work relating to cookbooks, magazines, advertising, menus and other industry publications requires trained image specialists for primping the food, in the same way stylists apply their creative talents in the fashion industry.  More and more, our food exposure comes from media other than the printed page, so food stylists are used on Food Network sets and for creating enticing web content.  Wherever we see food, there is a food stylist doing amazing behind-the-scenes work, crafting appetizing presentations that reach us in their best light.
We've heard of the interesting techniques used by food stylists (spraying food with water or syrup blends to keep it looking fresh, using cream instead of milk for a thicker—less soggy—look, using browning agents for meats, blanching green vegetables for brighter color, along with many others), to prepare food for the camera.  But the craft requires a greater pool of knowledge than just a few tricks of the trade, so the Culinary Arts departments of major schools offer career programs that prepare students for the specific challenges faced by food stylists.
Schools Offering Live Classes, Courses & Food Stylist Lessons
The following schools include popular programs for hopeful and working food stylists who need to learn more about the profession.
The French Culinary Institute: Based out of New York City, this school offers 6-month programs for plating and food styling.  Lisa Schoen is a culinary professional and FCI graduate who has worked in catering and personal chef roles.  She is a Food Network food stylist who runs the FCI's 10-hour course.  Irresistible, Camera-ready food is her specialty on the job, so the experiences she brings back to the classroom are accurate snapshots of the fast-paced industry. Making fake ice cream for photo shoots, working with difficult to style foods, and styling for magazine, TV and web presentations.  Certificates are awarded at the end of each session. (www.frenchculinary.com)
Culinary Entrepreneurship Program: Taught by experts who work in the industry, these are a series of intense courses designed for professional food stylists. They teach alternative ways for stylists to earn money in the business. Classes are offered both internationally, in cities like Singapore, and in the United States' larger cities like San Francisco.  (www.culinaryentrepreneurship.com)
Classes taught by Jacqueline Buckner: This expert stylist teaches private lessons that can be scheduled at the student's convenience. Inside a professional photo studio, she helps students style up to 3 photographs for their professional portfolios. She follows up for the next 3 months to assist with marketing. While Jacqueline works internationally, she's based out of both New York City and Boulder, Colorado. More information is available at (www.food4film.com)
Classes taught by Donna Lafferty: For 20-plus years, Lafferty has proven her ability as a food stylist and home economist. She teaches spring and fall classes every year in Chicago. (www.theartofstylingfood.com)
Living Light Center- Raw Cooking School – Fort Bragg, CA -  This culinary educator focuses on raw foods preparation.  The one-day Food Styling course is a hands-on day-in-the-life of a stylist that teaches students how food reacts to various handling methods.  Saucing, building height and visual perspective are topics that students study before staging their own masterpieces in front of the cameras. (www.rawfoodchef.com)
 International Conference on Food Styling: Led by veteran food stylist, Lisa Golden Schroeder, this weekend event offers fellow stylists the opportunity to see and discuss aspects of the business. The next conference is scheduled for June 18 - 19, 2011 at Boston University. (foodsylingandphotography.org)
Online Training Classes
Food styling relates to photography in an inextricable way, so the profession fosters stylists who shoot the images themselves, and stylists who stage the shots for food photographers.  Practice in creating successful food images is an important component of any stylist's education, so in-person classes provide invaluable feedback – in real time.
When classes are not accessible, online training may be the perfect way to figure out if food styling is the right career choice for you. Creating great shots can be practiced at home with the aid of Internet classes that establish theoretical and practical food styling skills. For working stylists, educational forums provide access to the latest techniques and industry trends.  Some of the classes available online include,
www.foodesigns.com: Through this site, food stylists can find various levels of online instruction. From "Food Styling 101" and "Everyday Food Styling Techniques" to classes geared toward stylist self-promotion and marketing, the programs are relative to today's market. Most last around 4 weeks. This group also offers live two-day workshops in cities like Minneapolis (March 6-7, 2010) and Chicago (June 5- 6, 2010).  Online store featuring printed materials that can be purchased as PDF files and downloaded to your computer.  The educator's network brings together photographers and stylists for collaboration and continuing education.
www.photostylingworkshops.com: Well-respected food stylist, Lisa Golden Schroeder, leads a nice array of classes through this site. "Everyday Food Styling," and "Food Styling 101," are popular online courses. She also offers offline, more direct courses, such as "Marketing and Self-Promotion for Food Stylists," as well as instructional books that are offered through this site.
These are other web resources that offer helpful information for food stylists yearning to learn more.
cookingschoolguide.com: By visiting this site, people can find the contact information for a long list of cooking schools around the world.
stilllife.com:  Lists teaching events and opportunities for working stylists.  A forum is maintained for informal question and answer interactions between working pros and aspiring stylists.
www.insidedigitalphoto.com: Thanks to internationally recognized food stylist and consultant, John F. Carafoli, this site focuses on digital photography. By providing helpful links to radio and television programs pertaining to the digital world, it can help stylists keep up to speed with today's technology.
Food Stylist Careers
It's important to stay informed of the latest trends within this profession by keeping an eye out for new opportunities. The industry has changed from a print-focused business, to one that employs food stylists in diverse media settings like food TV and Internet work.  The Food Network awakened a TV food culture that requires constant input from talented food stylists.  It also raises the bar for other media outlets that need their food images to be as enticing as possible.
Magazines like Cooking Light and Bon Appetit employ food photographers and stylists who work in consort with the magazines' art directors to produce visually stunning content. Web-based food materials also require a skilled touch before being splashed before consumers, so as that food-related sector grows, so does the number of opportunities for stylists entering the field.
Giant food companies like Sara Lee and Nabisco employ food stylists to promote products through advertising and packaging imagery.  Quality food photography is not only for food producers, there are a myriad of advertisers who sell something else, but use familiar and comforting food images to pitch the public.
There are many paths to a career as a professional food stylist.  For some it is an extension of photographic talent, while for others the connection is purely forged in the culinary world.  Whatever the case, your career will be advanced by proper training in the field, which often means a culinary program is in your sights. 
Culinary Arts schools have the proper frame of reference for educating food stylists, and industry connections run deep among culinary educators.  This is all good news for passionate students looking to make a mark in the restaurant and hospitality industries.
Find A Culinary School near Fairfield With Open Eligibility Today!
Types of Chefs
---
Culinary Training
Top Schools
Majors
Degree Types
Career Information