International Culinary Schools at The Art Institutes
One of the most widespread American culinary arts educational programs is available at the International Culinary School at the Art Institutes.  You will find these programs offered in 30 locations across the U.S., making AI one of North America's largest culinary educators. Accessibility to students, and standardized curriculums synch the school to the needs of the industry.
The Art Institutes had integrated culinary program previously, but in late 2007 a dynamic partnership between AI and The Food Network led to a complete re-invention of the AI program, giving birth to the International Culinary School. The school's curriculum was redefined, placing a strong emphasis on international cuisine, menu development, and modern gastronomic innovation.
The school's programs emphasize progressive trends and practices, but have strong roots in applying fundamental cooking techniques to a broad range of regional international cuisine. The skill-sets taught at AI are designed to prepare students for a wide variety of culinary vocations, including front of the house roles. Instructors impart fundamental skills first, then broaden the scope of learning to encompass a diverse sampling of international cuisine and techniques.

Every Art Institutes location has a Career Services department, which is dedicated to helping students secure industry employment after graduation. Support services are essential components of successful culinary arts schools, and should be within your matrix as you assess potential institutions.

Each year the Art Institutes runs the Best Teen Chef competition with scholarship prizes for the winners.

The Founding of the International Culinary School at The Art Institutes
The Art Institute began its first Culinary Arts program in 1991, at The Art Institute of Atlanta. The program has since been expanded to over 30 Art Institute locations. The program was expanded to become The International Culinary School program in 2007, to address the needs of the growing culinary arts industry.

The curriculum for the International Culinary School program is based upon classical French cooking techniques, and is inclusive of Asian and Latin culinary traditions.  The school's emphasis on progressive trends and practices introduces students to a wide cross-section of international cuisine. Hands-on experience is stressed, whether in school-run restaurants or through internships in local restaurants.
Administration and Faculty Highlights
Chef Michael Nenes, assistant VP Culinary Arts. Prior to joining the Art Institutes, Nenes owned and operated successful restaurants in Houston, TX, Fairbanks, AK, and Vail, CO. He was the Executive Chef for ARAMARK Corporation, and worked as a consultant to many organizations, including Star Fleet Cruise Ships, The Rice Council of America, Campbell's Soup Company, and Moet & Chandon Champagne. He specializes in American regional cuisine and wild game cuisine.
Master Chef Bill Sy, Academic Advisor and Community Outreach Liason, Culinary Academic Director for The Art Institute of Tucson. He's been named Culinarian of the Year by the Chef's Association of Greater Phoenix in 1997, and won the American Culinary Federation's Western Region Hermann G Rusch Chef's Achievement Award. Sy was formerly owner of Anna Kao's Restaurant in Pittsburgh, President of China Gate Restaurants in Phoenix, and Production Manager for the Fairmont Hotel in San Francisco. He specializes in Asian cuisine.
Chef Tina Luu, Faculty, Culinary Arts. Former pastry chef for Stars Restaurant and Stars Café in Singapore and Seattle, contributing writer and photographer for Gusto Magazine, pastry and dessert consultant to Alan Wong's Restaurant in Honolulu. She's also contributed recipes to the Magazines Hospitality News and Ranch & Coast. Her area of expertise is using organic ingredients to create and plate International style pastries, including French and Italian style pastries.
Chef Joe Bonaparte, Directory of Curriculum and Quality Assurance for The Art Institutes, and founder of the Culinary Arts program at The Art Institute of Charlotte. Bonaparte was the only American chef invited to participate in the International Cooking Competition in Bologna, Italy in 2003. He has also participated in the International Slow-Food Conference in Italy. His area of expertise is Italian, charcuterie, farm to table, French, and Thai.
Notable Art Institutes Culinary Alumni
Chefs Vinny Datolo and Jon Shook, TV personalities and hosts of the Food Network's Two Dudes Catering, which chronicles the day-to-day business of their Los Angeles based catering company. Datolo and Shook have also competed on the Food Network's Iron Chef program.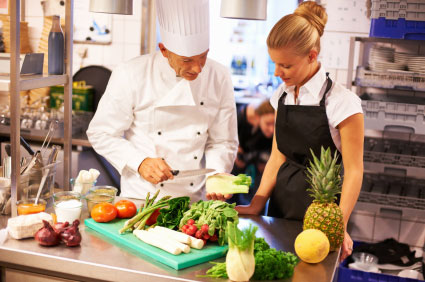 Chef Jeff Forester, executive chef and culinary director for the Culinary Entertainment Group. Formerly executive chef and culinary director at Food Network. Forester has worked with Chefs Brian Tolbert, Kent Rathbun, Alton Brown, and Emeril Lagasse. He prepared dinner for Julia Child. A regular on many TV and radio shows nationwide.
Chef Sameh Wadi, owner and chef of Saffron Restaurant and Bar in Minneapolis, voted best Middle Eastern restaurant by City Pages - The Best of the Twin Cities 2009. Winner of the Duchamp Award for best interpretation at the CuisineArt 2009 competition. Wadi competed on Iron Chef America. Wadi is a 2009 James Beard Foundation nominee, and has been featured in numerous publications, including Conde Nast Traveler, Minnesota Monthly, Minneapolis St. Paul Magazine, and METRO Magazine.
Chef Levi Goode, Vice President of Goode Company Restaurants of Houston, TX, which includes Goode Company BBQ, Goode Company Seafood, Goode Company Hamburgers & Taqueria and the Armadillo Palace.
Chef Yvonne Stephens, author of Amazing 7-Minute Meals, and former assistant to Bob Bowersox, host of QVC's TV program In the Kitchen with Bob.
Chef Ty Pauling, banquets manager at Hyatt Hotel in Canberra, Australia, which often caters directly to members of Parliament and government agencies, as well as to the Prime Minister. Former operations manager at The Three Tomatoes Catering, and former house services manager at Parliament House.
Chef Akira Back, executive chef at Bellagio's Yellowtail Sushi Restaurant and Bar in Las Vegas. Back has been featured on Starchefs.com and selected as a Rising Star by Restaurant Hospitality Magazine, and has cooked at the James Beard House, and participated in Aspen Food & Wine. His specialty is Japanese cuisine.
Chef Malcolm Livingston II, Pastry Commis at Le Cirque in New York City. When hired, he was the youngest of the 16 pastry chefs at Le Cirque.
Chef Gina Indoranto, specialty room chef overseeing banquet services at Circus Circus in Las Vegas, NV.
Chef Duddana Watt, owner and chef of Catering by Duddana, a private chef services company, and chef at Catalina Island Resort Services.
Chef Todd Annis, executive chef for Bold American Catering of Atlanta based at the King Plow Arts Center downtown. Formerly the founding executive chef at the prestigious Rainwater Restaurant in Atlanta.
International Culinary Schools at the Art Institute Locations:
The Art Institute of Phoenix®, AZ
The Art Institute of Tucson SM, AZ
The Art Institute of California SM - Hollywood, CA
The Art Institute of California SM - Inland Empire, CA
The Art Institute of California SM - Los Angeles, CA
The Art Institute of California SM - Orange County, CA
The Art Institute of California SM - Sacramento, CA
The Art Institute of California SM - San Diego, CA
The Art Institute of California SM - San Francisco , CA
The Art Institute of California SM - Sunnyvale, CA
The Art Institute of Colorado® (Denver)
The Art Institute of Fort Lauderdale®, FL
The Art Institute of Jacksonville SM, FL
A branch of Miami International University of Art & Design
The Art Institute of Tampa SM, FL
A branch of Miami International University of Art & Design
The Art Institute of Atlanta®, GA
A branch of The Art Institute of Atlanta, GA
The Illinois Institute of Art® - Chicago, IL
The Art Institute of Indianapolis SM, IN
The Art Institute of Michigan SM (Detroit)
The Art Institutes International Minnesota SM (Minneapolis)
The Art Institutes International - Kansas City SM, MO
The Art Institute of Charlotte®, NC
The Art Institute of Raleigh - Durham SM, NC
A branch of The Art Institute of Charlotte, NC
The Art Institute of Las Vegas®, NV
The Art Institute of Ohio SM - Cincinnati
The Art Institute of Portland®, OR
The Art Institute of Philadelphia®, PA
The Art Institute of Pittsburgh®, PA
The Art Institute of Charleston SM, SC
The Art Institute of Tennessee SM - Nashville
A branch of The Art Institute of Atlanta, GA
The Art Institute of Dallas®, TX
The Art Institute of Houston®, TX
The Art Institute of Salt Lake City SM, UT
The Art Institute of Washington® (Arlington, VA)
A branch of The Art Institute of Atlanta, GA
The Art Institute of Virginia Beach SM, VA
A branch of The Art Institute of Atlanta, GA
The Art Institute of Seattle®, WA
The Art Institute of Vancouver SM, BC
Dubrulle Culinary Arts location
International Culinary School Curriculum
Affiliation with the Food Network gives AI a competitive advantage over some smaller schools.  The caliber of curriculum, degree variations, faculty and guest chefs, and advertising and marketing of programs, are all elevated by the partnership.  For example, Food Network's promotion of AI's Best Teen Chef Competition, aimed at college-bound high school seniors interested in pursuing cooking as a career.
Program Overview
Programs of study vary from school to school, but you'll find the following degree and professional programs offered at AI campuses. These programs award Diplomas, Certificates, and Associate's or Bachelor's degrees, depending on the complexity and duration of the coursework involved.
Culinary Management: Bachelor's Degree
Culinary Arts: Bachelor's degree, Associate's degree, Diploma/Certificate
Wine, Spirits & Beverage Management: Associate's Degree
Baking & Pastry: Associate's Degree, Diploma/Certificate
Food & Beverage Management: Bachelor's Degree
Culinary Arts
Courses introduce international cuisine, basic culinary skills and techniques, including kitchen management, purchasing and cost control, human relations, dining room procedures, garde manger, baking and pastries, a la carte kitchen, nutrition, and an internship.
Culinary Arts
Culinary Arts Skills
Culinary Arts – Baking and Pastry
Culinary Arts – Culinary Skills
Culinary Arts Level 1 and Level 2
Culinary Arts concentration Baking and Pastry
Culinary Management
Courses integrate entrepreneurial and business skills, general education proficiency and hands-on managerial training, designed to prepare graduates for mid to upper-level hospitality jobs.
Wine, Spirits & Beverage Management
Courses on beverage management include operational training related to coffee, tea, other non-alcoholic beverages, wine, beer, and spirits. Courses include product knowledge, inventory, purchasing and cost control, general business, management, and marketing skills, laws and liability, trends, food pairings, catering and event management and service.
Baking & Pastry
Courses teach culinary skills combined with a focus on baking and pastry. Students are also introduced to the fundamental concepts, skills and technique for making chocolates and other confections.
Baking and Pastry
Baking and Pastry Level 1 and Level 2
Professional Baking and Pastry
Food & Beverage Management
Courses provide a wide variety of specialized educations to students planning to pursue a management career in food and beverage. Food and Beverage Directors and Hotel General Managers often hold this degree. Students are provided with unique opportunities for culinary education in settings beyond the classroom. Internships, student-run school restaurants, apprenticeships and study abroad programs place students in real management roles.
Student-Run Restaurants Put You into Real-World Pro Kitchens
The International Culinary Schools excel at putting students into hands-on cooking situations. Most, if not all, campuses have their own student-run restaurants, which are open to the public. These restaurants and bistros offer full menus of sophisticated gourmet fare that attract crowds from the local foodie sect. Hands-on professional kitchen experience is an important resume entry at job-seeking time.
Career Services
Your ultimate goal following culinary school is to land a job in a professional kitchen.  Modern chefs work in restaurants, bistros, hotel kitchens, resorts, spas, convention centers, and even corporate kitchen. Before you start your culinary education, consider where you'd like to land upon graduation. If you're passionate about cooking and focused on your educational goals, The International Culinary School at the Art Institutes has the programs in place to propel your career in the right direction.
Top Schools
More Popular Schools
---
Culinary Training
Majors
Degree Types
Career Information